Joined
Messages
Likes

23
Volvo Impact Trucks & Buses 4.03.50 [11.2017]
Download this document, you need 5000 Gallons
Download Now
Volvo Impact Trucks & Buses 4.03.50 [11.2017]
Size: 57.1Gb
Quantity of DVD: 8 DVD DL
Year: 11.2017
Release : 11.2017
Version: 4.03.50
Region: Worldwide
High Speed link download on Mega
Languages: Deutsch, English, Espanol, Francais, Italiano, Portuguese , Arabic, Chinese
Type: Spare parts, Repair and diagnostics for VOLVO Trucks & Buses
Operating System:
Windows 10 32 bit (x86) - Windows 10 64bit (x64)
Windows 8.1 32 bit (x86) - Windows 8.1 64bit (x64)
Windows 8 32 bit (x86) - Windows 8 64 bit (x64)
Windows 7 32 bit (x86) - Windows 7 64 bit (x64)
Windows 7 32 bit (x86) - Windows 7 64 bit (x64)
Windows XP 32 bit (x86) -Windows XP 64 bit (x64)
Browser: Internet Explorer IE6 - IE11, Microsoft Edge
Quantity of CD: 8 DVD DL
Date of update: 11.2017
Pass: After download send to email to get pass "autorepairmanuals.ws@gmail.com"
Volvo Impact is a web-based system that supports the workshops with information about Parts,
Components, Standard parts, Service, Standard time, and Tools for all Volvo trucks and buss.
You can gain advantages with the My list function to administrate part and operation numbers. Here
you can also make use of the interfaces from Impact to other systems that you have.
The information in the program is structured according to functional groups. The functional groups
are divided into 10 main groups:
0 General
1 Service and maintenance
2 Engine with mountings and ancillaries
3 Electrical system and instruments (lighting, instrumentation)
4 Power transmission
5 Brakes
6 Suspension and steering
7 Frame, springs, damping, and wheels
8 Body, cab, and interior trim
9 Other (special functions).
In the program you can search for the information you need on dierent
parameters, for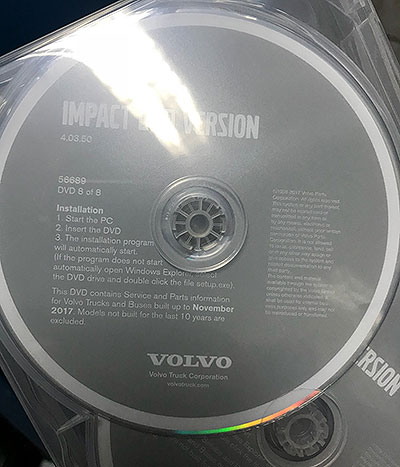 Last edited by a moderator: